Marcellus Energy Park
The premium choice for industrial development in the region
Build-to-suit lease or outright sale of land 3 to 90 acres.
Zoned

Industrial

– unlike most available land in region.
A Keystone Opportunity Zone (KOZ). Major tax abatements until 2017.
Rail availability. Opportunity for multiple spurs.
Short distance from Interstate 180 interchange.
Public water, sewer, gas and electric.
All projects designed, engineered and built to suit.
6 Major gas and oil-field tenants already occupants, under construction or committed.
Very central location within the upper half of the Marcellus.
Vast amenities, housing and available work force.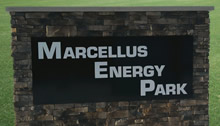 The Marcellus Energy Park, dedicated to providing family sustaining jobs is well underway. The 165 acre facility is located next to the Muncy Industrial Park and is a true testament to the private sector working to create jobs in cooperation with public entities.
Conveniently located in eastern Lycoming County just off of route 180 it's easy to see why the Marcellus Energy Park has been the choice for large multi-billion public & private corporations already.